Everyone's favorite cracktastic classic, that had to be written with the help of drugs...
Alice's Adventures in Wonderland
by Lewis Carroll
You may also choose to draw inspiration for it's sequel :
Through the Looking Glass
Some Ideas:
Try to incorporate one or more of the following:
playing cards, chess pieces, hearts, crowns, tea cups, tea kettles, hats, cats, mushrooms, caterpillars, flowers, rabbits, clocks, the color sky blue...
Some quotes:
'Curiouser and curiouser!'


`we're all mad here.'
'shall I never get any older than I am now?'


`Everything's got a moral, if only you can find it.'
`Off with her head!'
"Drink me"
"Eat Me"
"I think she's pretty"
"There's no use in going back to yesterday, because I was a different person then."
See what the Design team did with it...
JULIE: inspired by the quote which describes her darling Brooke perfectly.
She's also got tons of flowers, a hat, some light blue, playing cards (a queen even!)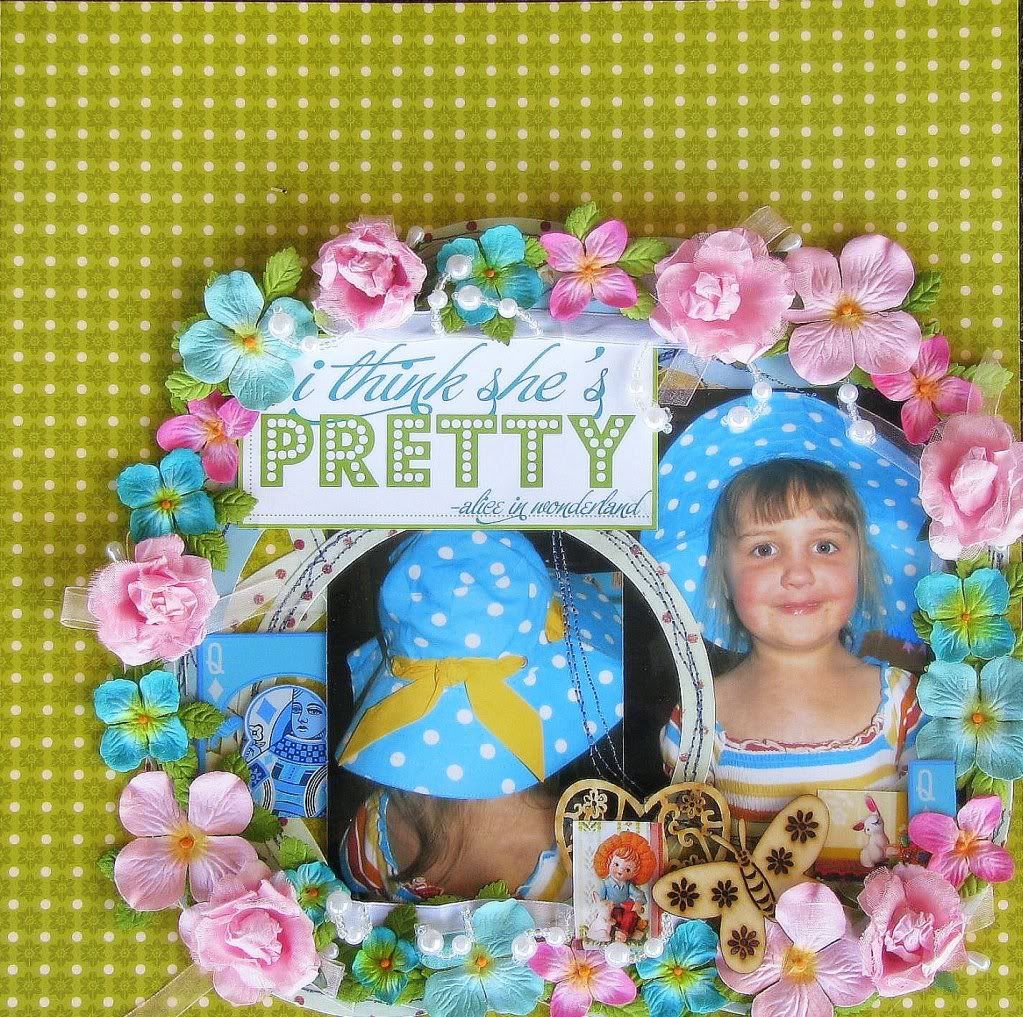 BREE: Bree sent this in way back at out DT call. I just loved it so! It's a canvas inspired by
Alice
. I love the 3D effect of the lace apron!
LOU: She's got playing cards and crowns galore on this pretty page about her sweet niece Kassi.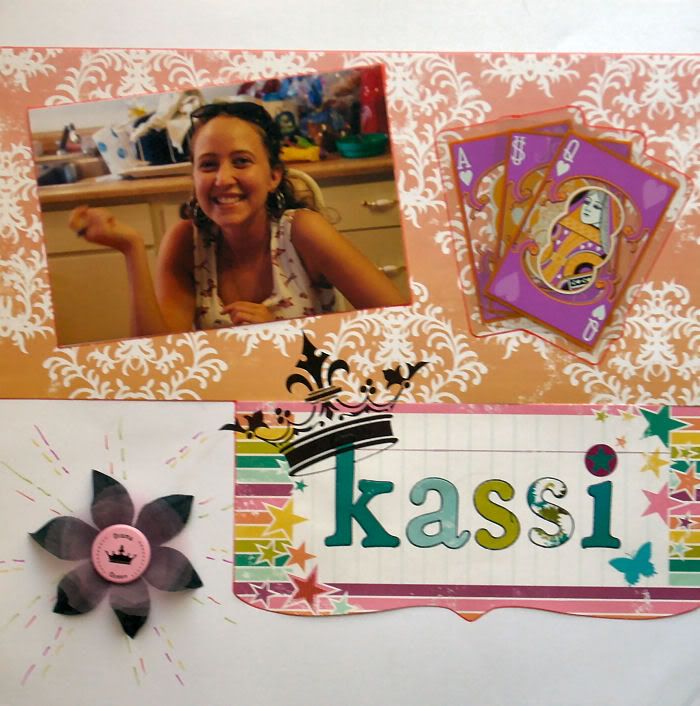 KIMMY: Inspired by the Jabberwocky poem in
Through the Looking Glass
. I had to memorize it in high school... still can quote most of it. I wrote the entire poem on the paper that I made myself in the center (using tissue paper/modge podge/ glimmer mist). I also included many elements from the Alice books in a collage around the poem: an illustration of Alice, a Queen of Hearts card, tea cup/tea pot tag w/ the words "drink me" on it, the tag from that Mad Hatter's hat, a cat, some Alice fan art, a crown, a garden, & a clock.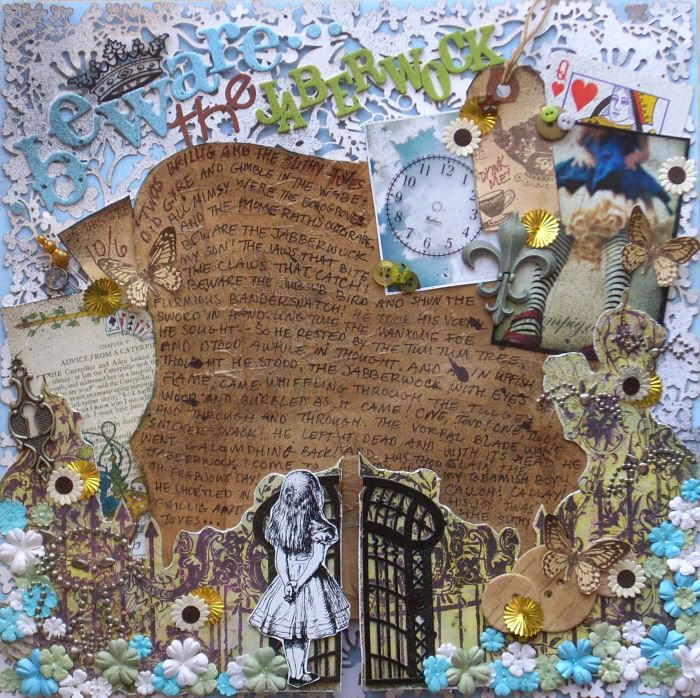 LORI: She used a quote from the book
"There's no use in going back to yesterday, because I was a different person then" and a lot of the same blue as Alice's dress, some flowers, and the word "journey" which is definitely a theme in the book.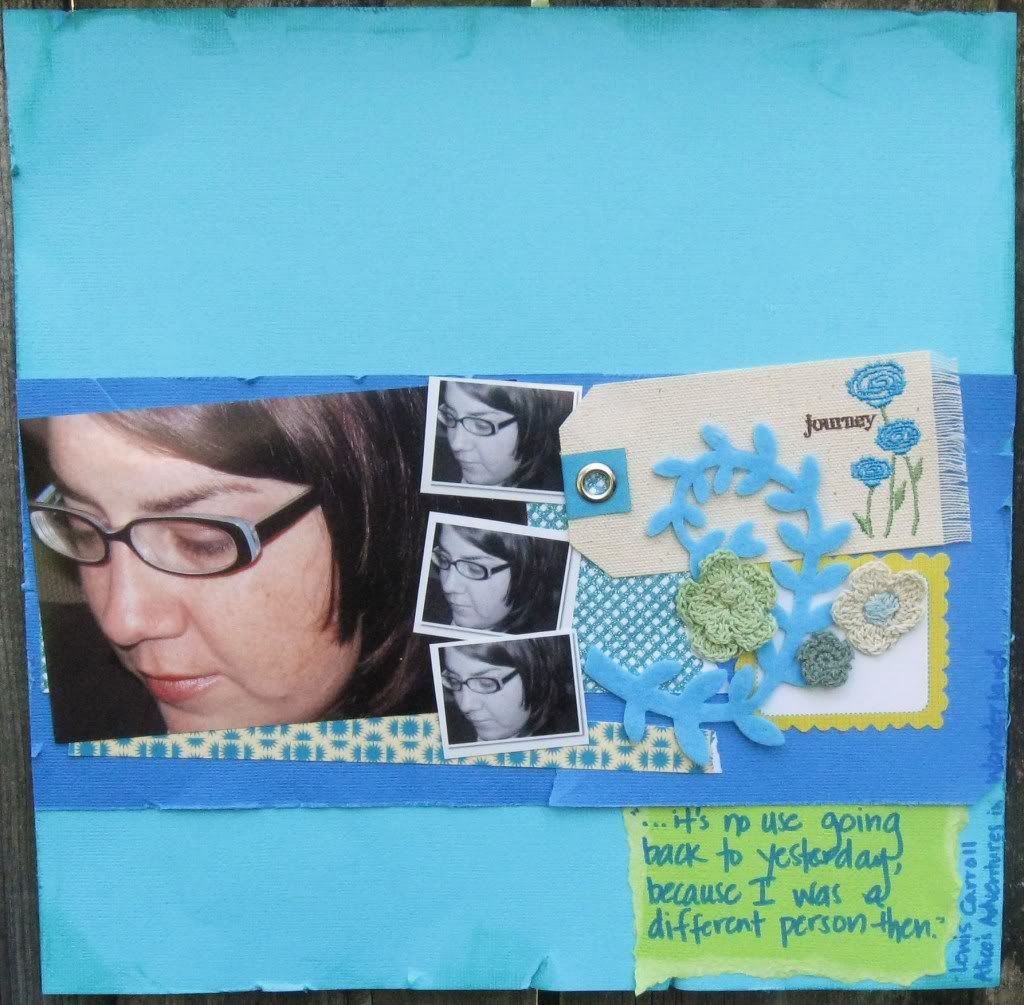 WHAT CAN YOU DO WITH IT? Show us by October 31st for the chance to win a prize!